Directions to the Sanctuary with photos
Sanctuary of the Egyptian Gods
Nea Makri beach, North-east of Athens, Greece
- The archaeological site is presently under excavation -
INTRODUCTION

It may be surprising to learn that many Ancient Roman citizens worshipped Egyptian gods. Herodes Atticus, the wealthy Roman consul of Athens & good friend of the Roman Emperor Hadrian (& who, in the 2nd century AD built the theatre on the side of the Acropolis & many public buildings, & owned two large villas, one in Kifissia, Northern Athens & one near Astros, in the Peloponnese which he used for hunting wild boar) built this beautiful temple by the sea in honour of the Egyptian goddess Isis. The cult of Isis was quite fashionable at that period - before Rome adopted Christianity at the First Council of Nicaea in 325 AD. He also built a Roman bath complex - for the worshippers to cleanse themselves before entering the temple.
This all must have cost a great deal of money and had to be a very important part of their lives. Since it is quite a long distance to travel by horse & carriage from Athens to Nea Makri, one can surmise that visitors to the temple would have not have returned to Athens the same day. Hence there must be a large number of "still to be excavated" dwellings existing that were used by sanctuary priests, bath staff and visitors. Herodes Atticus (& his wife Regilla) owned an estate on the Marathon Plain and so would not have had far to travel when staying there.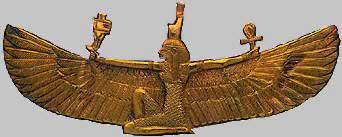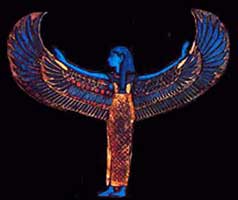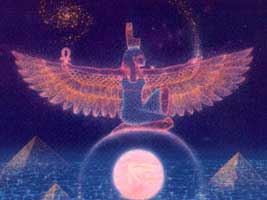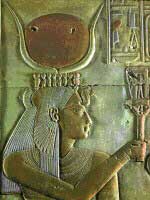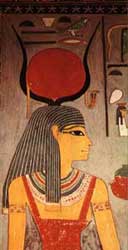 Some depiction's of the winged & standard version of Isis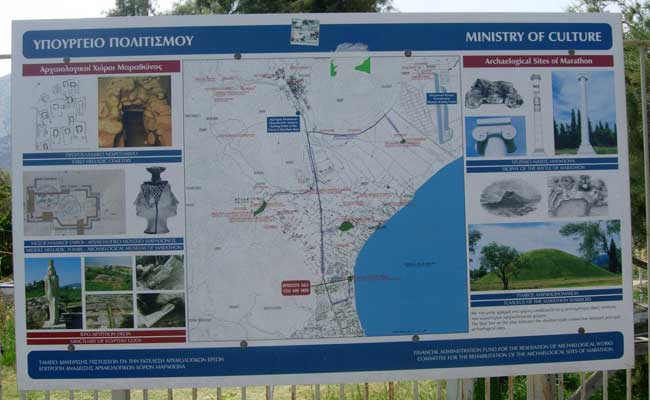 The Greek Ministry of Culture's information board on the seafront in Nea Makri
(near the small Ag. Kiriaki chapel) shows the Sanctuary of the Egyptian Gods
in the lower left-hand corner.

The sanctuary is enclosed in a high wire fence & the gate has been padlocked
since showcase excavations ceased after a brief opening to the public
during the Athens Olympic Games in August 2004.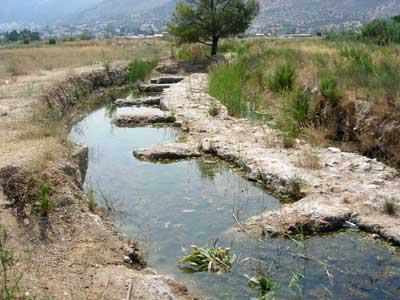 Part of the outer wall of the sanctuary
(just a few metres from the beach-front road)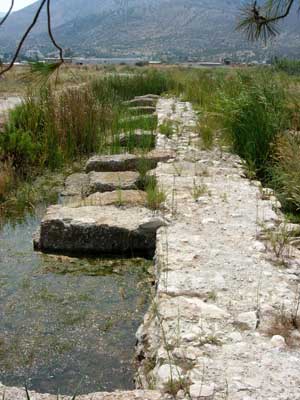 Part of the outer wall of the sanctuary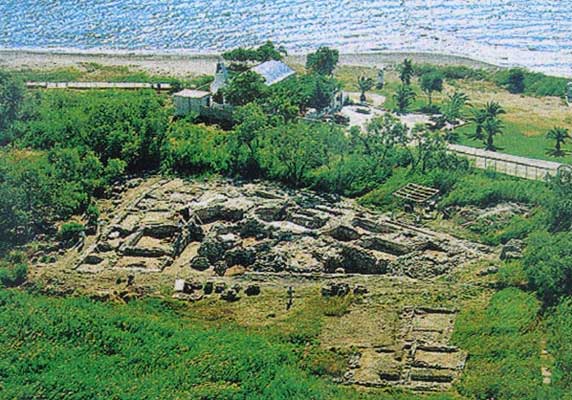 Aerial view of early excavations



The Roman Baths (hot, warm & cold) were built on a thick elevated floor held up by hundreds of short pillars - which
are still supporting the floor to this day (having survived many earthquakes in 2,500 years).
Hot air from a fire was circulated under the floor.
An arched entrance leading to the underfloor area can just be seen.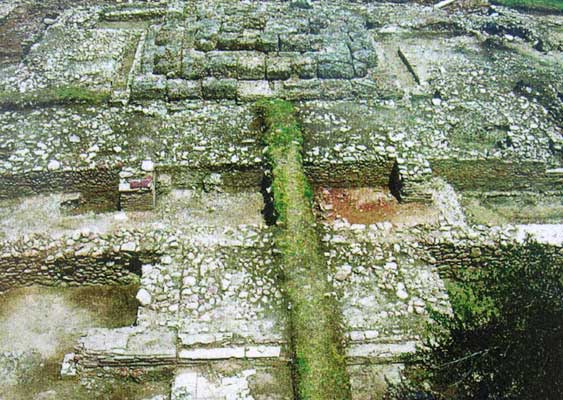 Centre of the Sanctuary complex showing the elevated altar area.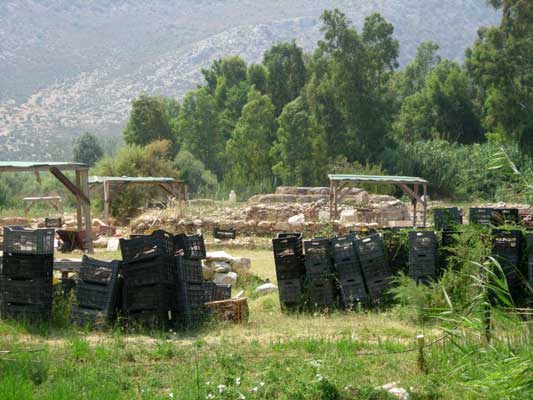 Archaeologists shelters & sample boxes.
Sanctuary altar area in the background.


Altar area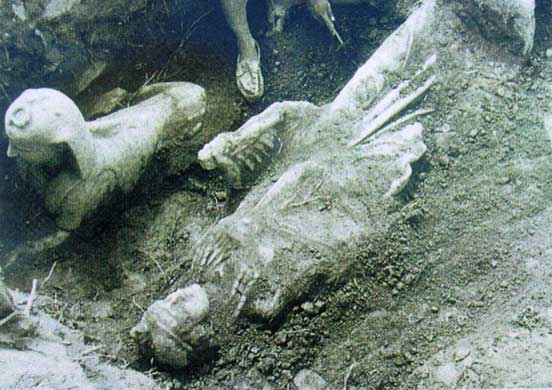 Discovery of the buried statues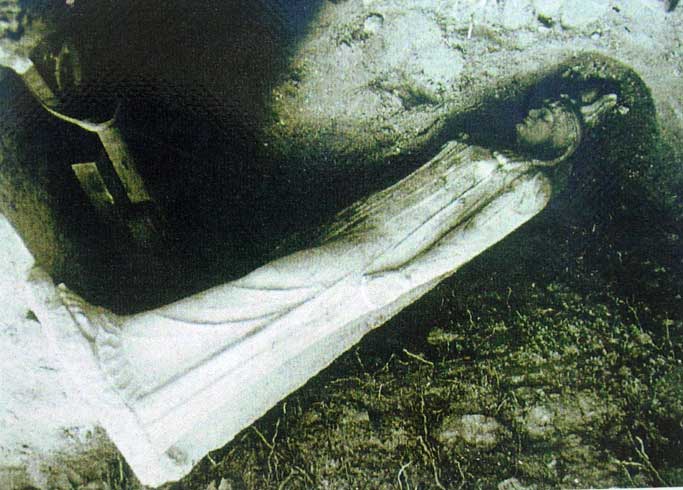 Discovery of buried statue

Panoramic view of the sanctuary complex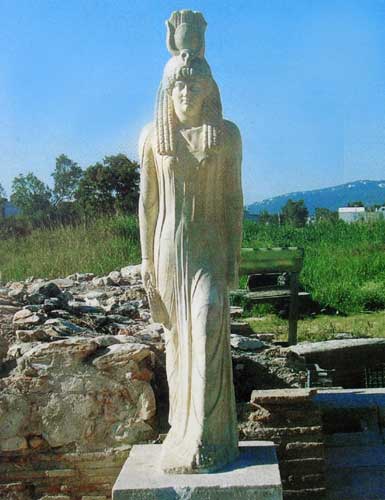 One of the beautiful & elegant statues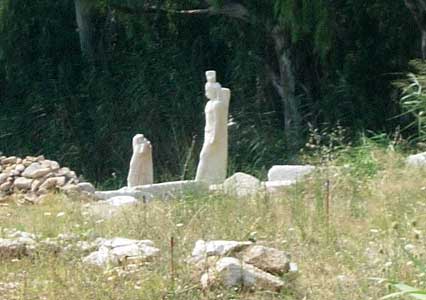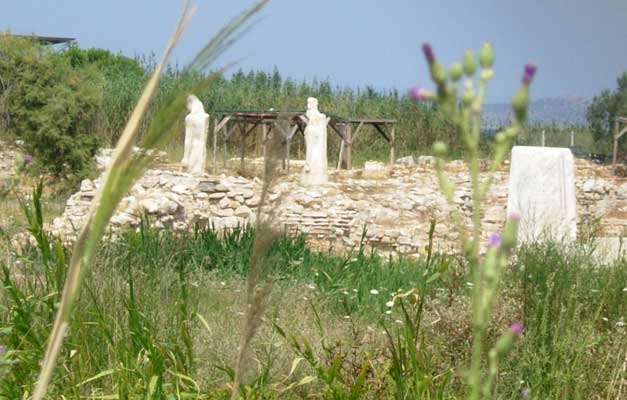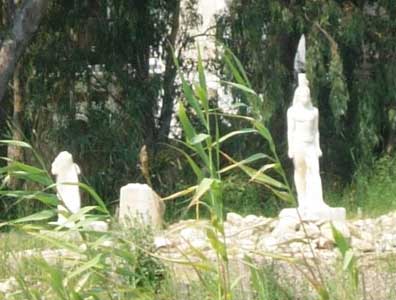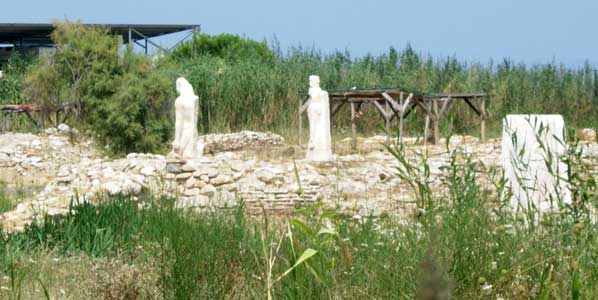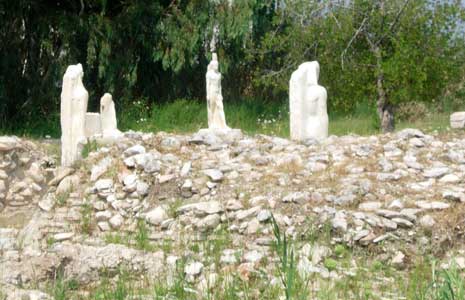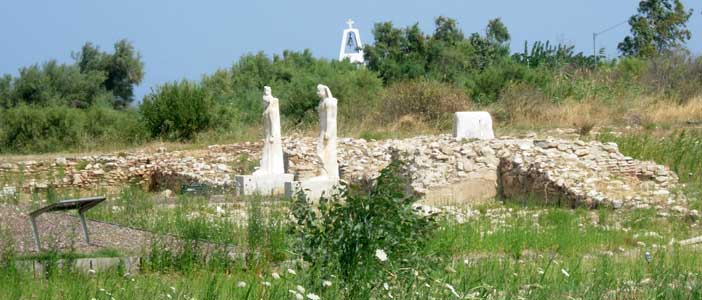 Two statues "guard" the steps for each of the four entrances to the sanctuary.
The four entrances form a cross centred on the alter.